Julie Tuman, aka The Popmaster
founded Crooked Stick Pops in January 2016 when she realized she'd had enough of her travel-intensive job in the field of international education.
I've always been happiest when I'm creating in my kitchen and can see the joy and delight as loved ones eat and drink.
After considering a number of businesses in the food and beverage industry, especially those that used her interest in craft cocktails and craft brewing, she realized that the Valley is already saturated with craft beer and that craft cocktails would also present significant challenges.
Crooked Stick was born when Julie thought of bringing the creativity and healthy fun of The Hyppo—a gourmet ice pop shop in Saint Augustine, Florida—to western Massachusetts. "When we go to Florida to stay with our close family friend, we literally go to The Hyppo every single day. Sometimes twice! The Valley has plenty of bakeries, bars, restaurants, and everything else to eat and drink. But it didn't have ice pops. . . until now!"
Her vision for Crooked Stick is to use fresh healthy ingredients, locally sourced whenever possible, to make brilliant flavors that are fun for families but creative and surprising enough to fascinate adults. "If you think of the chemistry, innovation, and meticulousness of preparation that goes into the best new cocktails in Chicago, New York, or San Francisco, and then translate that into ice pops, that's what we're going for."
Julie loves that her ice pops are as healthy as they are exciting. "Our Farm-to-Face line uses fruit from local farms. I often pick peaches from Quonquont Farm (Whately) or blueberries from Bird Haven Blueberry Farm (Southampton) in the morning and make them into pops that afternoon." Most of these pops are less than 100 calories, and almost all are less than 200. Crooked Stick also offers Power Pops, which contain vegan protein powder to fill them with 15 grams of protein. "Power Pops are a much more delicious snack after a workout than some tired old recovery bar."
Look for Julie on her freezer trike at a festival, farmer's market, college campus, or recreation area near you!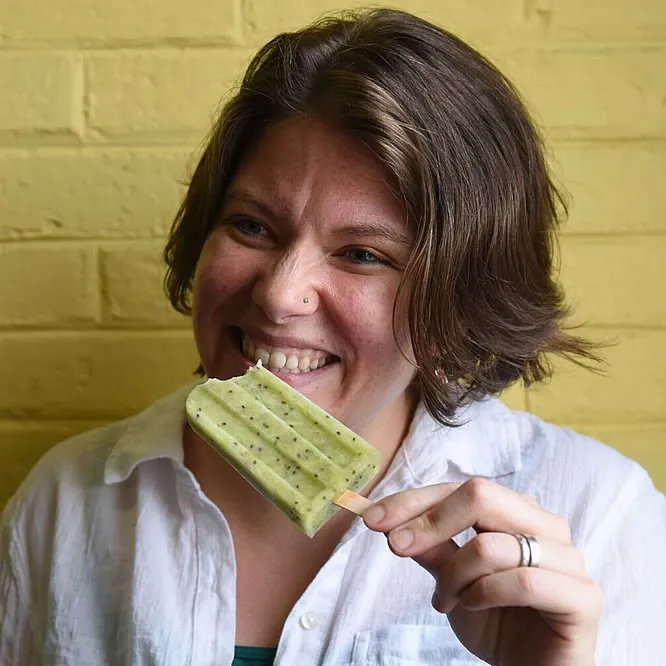 The Valley has plenty of bakeries, bars, restaurants, and everything else to eat and drink. But there wasn't anyone focused exclusively on creative ice pops. . . until now!